Insect Metamorphosis Poster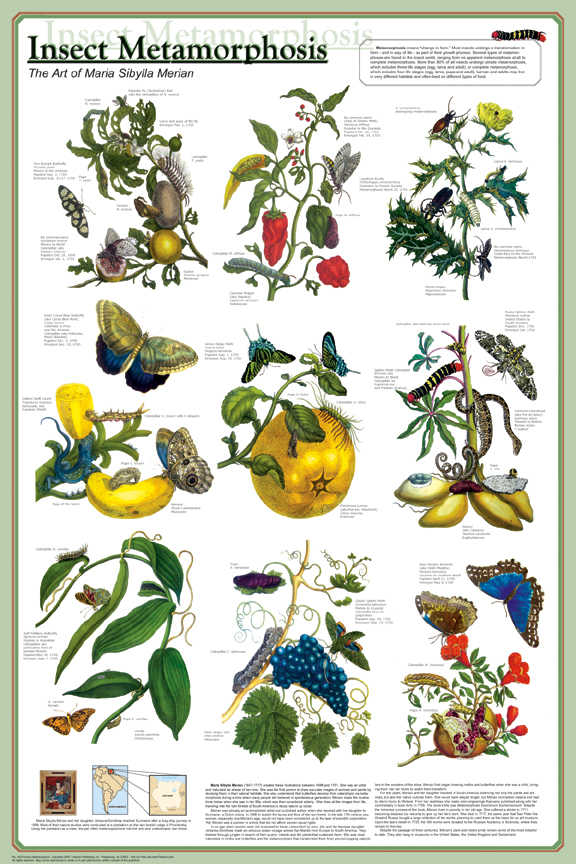 This is a unique title in that it simultaneously explores a variety of fascinating subjects.
Insect Metamorphosis is covered in every life science class. Each of these nine paintings shows the larva, pupa and a mature specimen of a different insect, making this poster especially appropriate for education.
Maria Sibylla Merian was the first artist ever to show species in their native environments. She traveled to South America with her teenage daughter to paint them from life. Each of the insects is shown on the plant that provides its most frequent habitat or food source. Many are exotic and all are shown complete with foliage, flowers and fruit. Merian set the standard for the many botanical and zoological artists who followed. Thus, the title has great history value.
The most amazing aspect of these superb paintings is that they were created over 300 years ago. Since then, they have never been surpassed in beauty nor scientific accuracy.
Merian's masterpieces are exhibited in museums worldwide. She is even the subject of a permanent exhibit at the National Museum of Women in the Arts, located in Washington, D.C. This poster faithfully reproduces nine of her most beautiful paintings, making it highly desirable because of its art value. An informative inset tells the fascinating story of this most remarkable woman, who was so many, many years ahead of her time. Thus, it appeals to those interested in the achievements of women.
Standard poster is large 24" x 36" size that fits standard frames. Printed on heavy, acid-free paper using non-fade inks, then coated to provide satin finish and provide protection from UV rays and scratching. Laminated poster is standard poster encapsulated in 3 mil plastic.
Standard: No. GA220-MMS. Only $9.95
Laminated: No. GA220-MML. Only $14.95